Parent Resources
Immunization Policy (updated)
Pediatric Associates of Alexandria
Vaccine Policy 01/01/2016

Pediatrics Associates of Alexandria (PAA) is a large practice, caring for thousands of children. Every day, we have hundreds of children coming in and out of our office. Some are too young to be vaccinated and are therefore vulnerable to severe, potentially life-threatening infection. It is our duty to protect each of our patients to the best of our ability from any infection that could be contracted in our office.
Due to recent concern of highly contagious, vaccine-preventable illnesses in our region, PAA is revising our vaccine policy. This is being done to better protect all our patients, as well as their caregivers and our greater community.
Effective January 1, 2016, patients at PAA will be REQUIRED:
1. To start required* childhood immunizations at 2 months of age, unless there is a medical contraindication.
2. To complete required* childhood immunizations no later than 2 years of age, unless there is a medical contraindication.
3. To complete immunization boosters required* after the fourth birthday by 6 years of age, unless there is a medical contraindication.
4. To complete immunization boosters required* after the tenth birthday, within 1 year after the latest recommended date for administration, unless there is a medical contraindication.
5. Children who are behind in their vaccines will have 30 days to initiate the catch-up process, and 6 months in which to receive all needed additional vaccines.

Immunization status will be reviewed and discussed at office visits with a provider.
This policy will be updated should any new recommendations/requirements arise as determined by authorities including the CDC, AAP, ACIP, or the State of Virginia. Legal guardians who are not able to abide by the above guidelines will be asked to find a medical practice that is able to comply with their beliefs.Pediatric Associates has no greater responsibility than to protect each and every one of our patients. Having a fully immunized patient population is essential to our providing this protection.
*Required vaccines are those required by the State of Virginia for school entry. These include DTaP, HIB, IPV, Prevnar, Hepatitis B, MMR and Varicella.
See http://www.vdh.virginia.gov/epidemiology/Immunization/requirements.htm for details.
AAP 2015 immunization schedule:
http://www.cdc.gov/vaccines/schedules/downloads/child/0-18yrs-child-combined-schedule.pdf
Forms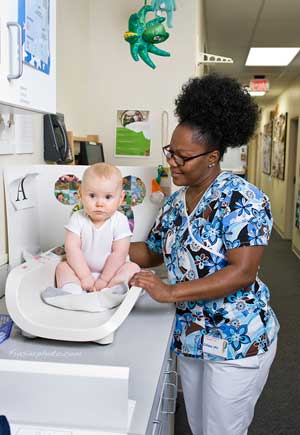 We have forms available online for you to view and print. Completing necessary paperwork prior to your child's visit helps quicken the check-in process. Please take a minute to complete all applicable areas on the form prior to dropping it off or mailing it to our office.
We will complete most child care, public\private school and college medical forms within three business days. *There is a $10.00 fee for each form requested. Please include this payment with your form(s) to expedite the process.
Request Medical Records Policy
When requesting your child's medical records, a Medical Records Request Form must be completed and returned to Pediatrics Associates of Alexandria. Once the completed form has been received, our office will contact the parent or guardian informing them of their cost for processing a copy of their records. Payment is typically made by credit card over the phone with no additional fee. Please allow approximately two weeks from receipt of the payment for the records to be processed and received.
Referrals Policy
Pediatric Associates of Alexandria asks that you submit requests for referrals at least five business days prior to your scheduled appointment with your child's specialist. Please provide: the child's full name, date of birth, parent or guardian's name, contact phone number, name of insurance, date of appointment, specialist's complete name, office phone number, and diagnosis or reason for office visit. Once the referral is complete, the parent or guardian will be notified by phone that it is ready for pick-up at our office. Referrals will not be faxed.
It is the responsibility of the parent or guardian to submit a referral request at least five business days prior to the child's appointment with the specialist. Only under extreme emergency circumstances will same day referrals be approved and completed. Referrals cannot be back dated, and in most cases, your insurance requires 24 to 48 hours notice to approve (giving us authorization).
Vanderbilt ADHD Forms
Vanderbilt Assessment Scale Teacher: In English In Spanish
Vanderbilt Assessment Scale Parent: In English In Spanish
Helpful Website Links
For the most up to date information on a wide range of pediatric health issues; please visit www.healthychildren.org. Other useful links include:
Links to Surrounding County School Districts

Links to Surrounding Area Departments of Health